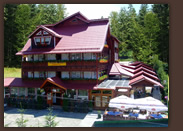 Located in the Predeal Resort, county of Brasov situated at only 1.5 km distance of the centre of the town on the road to Trei Brazi Chalet and being placed in a region with a wonderful view and a pleasant silence, Speranta Villa is one of the most representative villas of this area. Endowed as the international standards request, the villa is illustrative for this region of Romania.
The mountain resort, Predeal, is situated almost in the middle of the country between the springs of Prahova and Timis.
Located at 25 km distance of the county of Brasov and at 140 km distance of the capital of Romania, Predeal is an easy accessible resort for tourists from every place.
 Predeal can be reached by car or by train.
Our first priority is the satisfaction of all our guests.
Our main priority represents the satisfaction of all our clients !